Investing in Cuba
Wondering whether this is a good time for you to consider the possibility of investing in Cuba? Many conclusions are that Cuba now represents a lucrative opportunity for U.S. businesses:
Cuba is home to more than 11 million consumers with nearly 60 years of pent-up demand for U.S. goods and services,

The Port of Havana is only 198 nautical miles from the Port of Miami, facilitating trade,

Millions of U.S. tourists will need travel-related services for their planned vacations to Cuba.
On the surface, these factors appear to present a compelling case for doing business in Cuba. Listen to experts on Cuba and see if it for you.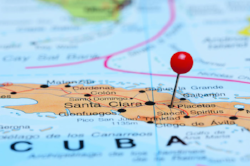 Attend the Why Cuba Forum on January 31 at the offices of Polsinelli located at 161 N. Clark St, 41 st Floor, Chicago IL 60601 where we will connect with our offices in Denver & Phoenix.
The Why Cuba Forum will consist of business briefings, sector opportunities and access to our trade delegation, departing May 2017. More Information.
SPONSORED BY: