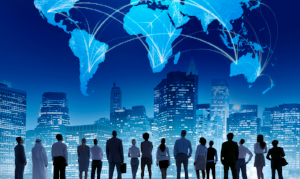 Ask any small - medium size business owner and he or she will likely tell you that time is really scarce compared to the number of important things to do. Little wonder then that many business leaders look askance at invitations to join yet another organization. Membership means valuable time taken away from the business. The decision to join hinges on the proposition that membership is worth it and the burden of proof falls upon the organization to identify the sources of value to businesses.
Assessment of the decision to join or not has been a topic for discussion for many years among the association community. Let us begin with the upfront statement that what we are talking about here is membership in an organization (Global Chamber®) whose sole purpose is to help businesses DO foreign trade not merely talk about it. The value of membership in the Global Chamber® stems from business needs for: 1. information, 2. inspiration, 3. support, 4. referrals, 5. Affirmation, 6. training and 7. fun. Each will be discussed in turn.
1. INFORMATION Circumstances surrounding an activity like foreign trade can change daily. New laws, new regulations, new transport alternatives, changing political conditions, volatile exchange rates, etc. are usual. Consequently, it is of great importance to decision making that the latest information is available. In this environment, up to date information is especially valuable. Global Chamber® offers updates on developments in foreign trade. On behalf of member needs, Global Chamber® surveys, gathers and reports on up-to-date foreign trade developments saving individual members time.
2. INSPIRATION The press of daily business sometimes narrow one's focus; obscuring the view to new opportunities. To many, time away from the office, spent in a supportive atmosphere that allows members to think about foreign markets, sharing thoughts and bouncing ideas off peers facing similar challenges can inspire thinking and action. Members, during the course of regular meetings can most likely expect to benefit from conversations with peers in the hallway outside the meeting room as well as from formal presentations.
3. SUPPORT There are many small to medium size businesses where there is but one person assigned the task of being the "export guy". Many toil alone on trade issues. Global Chamber® members come to monthly sessions and they sit next to and talk with others who share their interest in and responsibility for foreign markets. They will find members who will be supportive and perhaps provide a "shoulder to cry on".
4. REFERRALS At some time in the consideration of foreign markets, all businesses likely will confront an issue or problem with which they are unfamiliar. Questions arise like, Where to turn? Who to call? and Who can I trust? Finding help can involve a cost of search that can be prohibitive. The Global Chamber® provides unprecedented and immediate access to sources of help around the world. Referrals can be provided on such items as: on-the-ground across-the-world personal contacts, government services, legal advisors, tax advisors, training and a host of others not only in the Chicago area but throughout the US and more than 500 locations worldwide. A member of in Chicago is automatically a member in ALL 500+ metro locations around the globe.
5. AFFIRMATION Often, if we work in the rarified atmosphere of foreign trade we reach conclusions that may leave us uneasy because we have not had a chance to test those ideas with another person knowledgeable with trade. Global Chamber® members can use their associations with other members to test ideas or verify them in close personal conversations perhaps in the hallways or in small group Export Circle meetings. More than likely, a Global Chamber® member will have the opportunity to share his or her experiences and reaffirm what they suspected.
6. TRAINING Even companies that are mature foreign traders and have been at it successfully for years can find benefits special to them. The CEO can send a junior staff member to be an active participant in the Global Chamber® by taking on a committee assignment, doing some public speaking, organizing a committee or designing and leading a project. This is great training in the "soft" skills that the junior staff person can bring back to his/her work in the company. Opportunities to develop these kinds of skills are limited in most companies – especially as they relate to foreign trade.
7. FUN Getting together with other business leaders who share an interest in global trade can be fun. Global Chamber® meetings are all designed to maximize the opportunity to talk with one another – not just sitting and listening to speakers. Global Chamber® members make friends as well as deals.
The choice to be involved in an outside organization can be a difficult one given the claims on a business's time.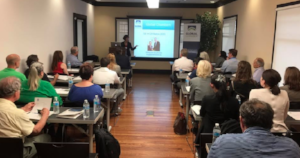 However, if a business is looking for growth by expanding into global markets, membership in The Global Chamber® is well worth it as a place to collect information, carve out special time to focus on global trade, meet in a supportive atmosphere and provide training to younger employees – all in a fun atmosphere.
So, go to www.globalchamber.org and sign up today!
Ernie Watts
Executive Director, Global Chamber® Chicago